1994, Brazil's dry savanna. In the poorest region of the country seven young people meet – with no work, no school-leaving certificate and thus no life prospects – in an old, deserted mill in order to take their lives and their dreams in hand together. Inspired by...
read more
In September, a team with Hans Heidelberger, Florentina Kuhs, Peter Friedrich, Jonathan Ziegler and Niels Brande (Denmark) set up to visit the Montessori kindergartens of the nehemia team with the Dayaks in various villages in the jungle and to create photo and...
A short video introduction of our work in Thailand, the Home of Blessing. The main focus of the project is to protect young girls in the North of Thailand from being sold into prostitution. [signoff]
RAIN! In Germany, farmers long for it - in Kenya it has been raining excessively for three and a half months. Due to the persistent rains, nearly 200 people died in the Kisumu region alone and more than 1,400 families lost their shelter. Particularly affected was the...
Rather than start yet another project in Brazil's urban slums, what if we developed rural areas by partnering with former rural dwellers, giving young people perspective in their region and revived lost dreams? My name is Julia Hildmann, I am 28 years old and I...
2017 was a challenging year for the Miwani farm project. A persistent drought and the subsequent fire, which destroyed a large portion of the croplands, threw back the farm development quite a bit. Thankfully, a new pastor could be found: Maureen. Maureen Faith Samba,...
After two years the progress and development made in the Help Center project is impossible to miss. When Klaus Buchner and Dr. Sabine Auerochs visited this was very clear to them. A heating system and new windows have been installed in the dilapidated building....
We were a colorful, amazing group: 9 staff: from the YMCA, the nehemia team and from churches, in addition some extra cooks and approximately 20 kids, mostly with migration background. We asked the children: Which language do you speak at home? German, Polish,...
In August a team of young people from the YMCA in Leutershausen (Heidi's home town) visited Borneo. Every one of them was involved last year helping with the charity bike race and wanted to get to know the place where Wolfgang and Heidi Oelschlegel and the Nehemiah...
In December Hans Heidelberger met with the direction of "Nehemiah International Kenya" and Greg Livdahl & Dr. Ernie Franz from "Nehemiah International USA" in Kisumu / Kenya. It became clear that the "Miwani Project" in its existing form, due to some mistakes from...
As part of their studies four prospective social workers were able to set up an event day with 'GoKick'. For the kids as well as the staff this was a welcome change to the routine weekly meetings. The highly motivated children and workers created nature pictures made...
With a wonderful new team, consisting of four young adults, ages 20-24, a new season has begun for Exploring Life's living community. Since October 2017, the students with various courses of studies (civil engineering, applied chemistry, interior design and social...
Burkina Faso is one of the poorest countries in the world. Only a very small percentage of the population has access to electricity. Many people therefore lack an essential prerequisite for the self-responsible improvement of one's own life situation. Within the...
It really is true: the nehemia team has been around for 30 years now. If you've been sharing our journey from early on and still can't believe that number, just take a look in the mirror! Time hasn't stood still at all. It's been 30 intense years full of challenges,...
Who would have thought that the people of rural Miwani would struggle to choose between buying a loaf of bread and indulging in a cinnamon roll? Don't get it wrong, there's no joy in watching the rural folks debate between the basic loaf and the tantalizing sweet...
My husband and I have been working with a Contact Café by the nehemia team for 2,5 years now. We meet every Thursday at 4.30 pm to give Germans and refugees an opportunity to get to know each other, have tea, conversations, intercultural inputs or to go on a faith...
Several aid shipments from Franconia made their way to Ukraine again this summer. We are so grateful that Avid & Hanni Feldhoff of "Oase Hersbruck" and Friedrich Dorsch of "Lasst uns gehen" in Heiligenstatt and their staff make these shipments possible again and...
Uzhgorod/Ukraine: The nehemia team is supporting the project of the Ukrainian nehemia team to start an elementary school in Uzhgorod in 2018 which is based upon Montessori pedagogy. Target groups are especially children from marginal groups: Roma families, orphans,...
A delegation of "Dayaks" (indigenous people from Borneo) was welcomed by Mayor Dr. Thomas Jung in the Fürth Town Hall. Part of this delegation of Indonesian local politicians were the nehemia employees Wolfgang Oelschlegel and Deckhy Gedeon. Fürth's local politicians...
The new school's official name is "Mehran Public School" and it is now the third school "Nehemia Trust Pakistan" has opened. 75% of the expenses of purchasing and furnishing the building were covered by the BMZ (German Federal Ministry for Economic Cooperation) upon...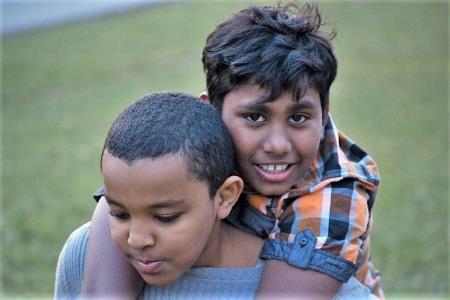 The nehemiah team is planning an international holiday program for children in Nuremberg. It will be for 3 days during the carnival holiday (Mid-Feb 18). We are going to have lots of music, cooking, painting, dancing, theatre and much more! Fanta Coulibaly from...