Dear friends and supporters of the Contact Café,
Since Dec 2014 we as nehemia team e.V. offer once a week the contact café for people with refugee background. Here integration happens through encounters between Germans and refugees and help can be offered to cope with everyday life (application, housing search, support with educational issues, etc.). There are also regular Christian impulses and resulting conversations about Jeshua al Massih (Arabic for Jesus Christ, the Messiah). Originally, the program was designed for adults.
Now the focus is also on children, due to the effects of the lockdown and distance learning during the Corona pandemic. Children and adolescents from less privileged families were and are particularly affected. Thus, parental homes differ not only in terms of their resources in the area of "digital learning" due to social status, but also in their possibilities with regard to learning support. In recent months, the vast majority of migrant children, especially those of elementary school age, have once again increasingly spoken only their native language, which has also led to significant drops in performance and language problems when dealing with school assignments. Due to their lack of German language skills, they are hardly able to cope with regular classes. This is a great challenge for these children.
Every child has a right to education!
That is why we decided to start a new project:
Language and learning support for refugee and migrant children.
Project start was already in June 2021. We are very happy to be able to support these children now. The program has been very well received and the children enjoy learning while their mothers talk to each other in the contact café. The project is held in the church garden of the Luther Church at Hasenbuck. The learning support groups meet in the vestibule of the church. We currently have 12-15 children from grades 1 -5 and preschool as well as three children who have only recently arrived in Germany and are attending a transition class. Sieglinde Weiss leads the learning support and various staff members contribute their gifts to the learning small groups. In addition to learning, there is also brief Christian input. Hoda Ihnken leads the women's ministry as she has in the past. At the end of August we were able to enjoy delicious Arabic specialties after the program in the garden of Luther Church. We would like to thank the Luther Church for the opportunity to use the rooms for this work.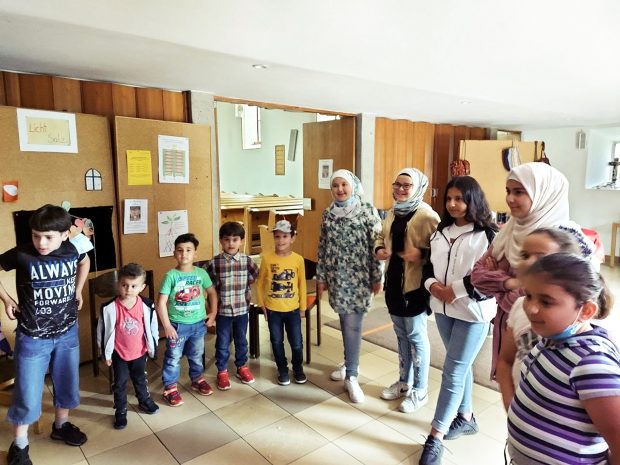 In order to be able to support these children according to their level of knowledge, they are divided into small groups. The families have a refugee or migration background (Syria and Ethiopia) and cannot afford any other language and learning support.
Offers and measures:
Language and learning support German 2-3 h, the learning support takes place in small groups with a maximum of 3 pupils*. The children are divided into different groups according to their level of knowledge.
Tutoring offers for German, Math and English.
For this valuable work, we are looking for additional staff members with a big heart for children and some experience in tutoring or children's work.
We thank you very much for your support!
With best regards
Elke Feld
Board of Directors
nehemia team e.V.